I hate sad stories. All through college I heard ag speakers and many a professor talk about the fact that young people just don't know how to cook beef. They'd tell stories of how their mothers slaved in the kitchen all day and they verbally mourned the loss of domestic skills.
Then I'd go home from lecture and my roommates and I would often whip up home cooked meals in our trailer-house kitchen. I thought we must be anomalies.
In the last decade social media has really taken off, and now I often see what my friends are cooking up. I have begun to realize that many of us have skills. We make breads, we try new desserts (even when the recipe looks complicated), we use ingredients our mothers have never heard of before. And above all, I see a whole lot of beef popping up in my Facebook and Instagram newsfeeds.
So, when Bailey Harsh and Deb VanOverbeke of Oklahoma State University authored a new research paper on beef retail and foodservice trends, I may have been just a wee bit giddy when I read this: "Today, beef consumption is higher among consumers 18 to 34 as compared to those over 35. This group of 80 million consumers born between 1980 and 2000 is most commonly known as the 'Millennial' generation."
(Woohoo! Yes! Yippee!)
That was me celebrating the good news story: the fact that the future of beef demand looks good.
Yet, we can't deny that there's been a decline in high-school cooking education and more after-school activities take families out of the kitchen.
"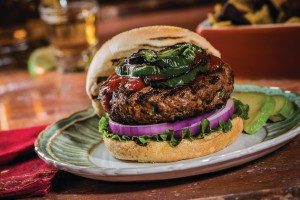 It's not happening at school and it's happening to a smaller degree in the home, so you just don't grow up with it, but that does not mean that there isn't a desire to cook," says John Lundeen, with the National Cattlemen's Beef Association, a contractor to the Beef Checkoff.
It just places more burden on beef to perform.
"We can't assume that folks know how to buy the cut, how to season it, how to prep it and how to know when it's done or what temperature to cook it at," he says, "but the desire for knowledge is there and people want great food. That's what beef has to deliver on."
Working with you, we're glad to be doing our part to keep my generation coming back for more!
May your bottom line be filled with Black Ink,
Miranda