The impossible dream
Computer modeling considers a world with flat demand for CAB
Imagine an alternate American history line over the past 16 years, with just an incidental supply of "Angus" beef. There's a Certified Angus Beef ® (CAB®) brand but it began to coast in 2002 and scaled back to maintain flat demand. The 30 other Angus programs at that time struggled to compete with commodity beef; most folded.
CattleFax analyst Lance Zimmerman visited that dimension through a computer model this spring, adapting one he and Kansas State University economist Ted Schroeder created in 2008.
First, he updated the CAB chart based on the adjusted model to show a 2018 CAB demand index of 193, up 25 points in a year, all on a 2002 base of 100 and compared to Choice at 160 (see chart). It marked a 10th consecutive year of record increases in per-capita world demand for the brand.
"That was no surprise," Zimmerman says. "But what if demand for the brand had remained flat since 2002?"
Laying aside the impossibility of that in our real world, where each year's CAB marketing plan aims to bring on enough new demand to support the long-term growth in supply, the exercise scores a few points and stimulates discussion.
"Flat demand over all those years would mean a CAB cutout value of just $115 per hundredweight (cwt.) last year instead of the actual $222," Zimmerman says. Commodity Choice would fare better at $133/cwt., still weakened by lower demand for its premium share. "That all seems crazy, but remember, you're selling nearly twice as much CAB product on a global per-capita basis now. Merely steady 2002 demand would wreck CAB market value."
Zimmerman did use the word "crazy," but examine the alternative to appreciate the importance of cultivating demand for the brand.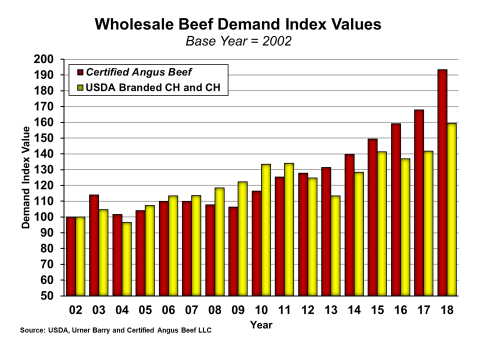 WHOLESALE Demand for the Certified Angus Beef ® brand compared to USDA Choice expressed as an index where 2002 = 100. Note nine years of consecutive demand growth for the brand.
"Simply multiplying the $221.60/cwt. CAB cutout last year times the 1.2 billion pounds sold worldwide gives us $2.8 billion in industry value at the wholesale level," he says. "Without the steady increases in CAB demand, the $115/cwt. cutout on the same volume would come to just $1.4 billion—only half of the value CAB actually contributed by building robust demand."
What does that mean to cattle producers?
"All else being equal, that increase in demand for qualifying Angus cattle is worth roughly $57/cwt. at the fed cattle level," Zimmerman says. "That's $775/head according to this model, but we have to make a lot of assumptions in modeling, and the beef industry doesn't work in a vacuum."
A few of the impossibles include today's growth in premium beef supply with only flat demand. It would not have happened, the analyst admits, because that transformation was incentivized by demand signals paid on value-based grids. But it's more than just an interesting model.
"Every day since at least 2008, the brand was going through a real-world test of economic theory," Zimmerman says. "Every year the industry produced more for the brand and each year your network of licensees raised the bar higher."
Schroeder says computer modeling must "make a lot of assumptions to collapse the entire demand story into a single number, but Lance didn't make any crazy assumptions. CAB simply has a remarkable demand story."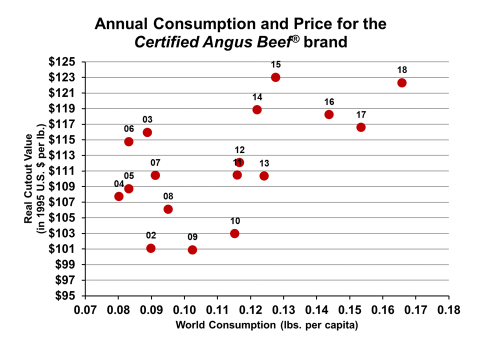 SCATTERGRAM of CAB Demand Since 2002: Volume in per-capita global pounds sold across the bottom and deflated to 1995 cutout value up the left side. Movement up and/or to the right for more than a decade indicates an upward trend in demand. 
It's one that has to be seen in the context of first steps, 40 years ago.
"Early on, CAB realized the demand potential was there, if the supply could be developed," the economist says. The "cage-free egg" market started out with a similar faith, but now finds itself faced with a ceiling the likes of which CAB could avoid.
"If you increased cage-free egg supplies at the rate CAB has grown, you couldn't sustain premium demand," Schroeder says. Most product markets can be "swamped," but he's not sure that can happen in this particular branded beef case.
"CAB marketing didn't start at consumer level, but by co-branding with large customers who featured the premium beef brand and found it lifted both brands," he notes. Strategic marketing plans evolved to personal business-to-business relationships with thousands of licensees: "Who else does that?"
The cage-free egg is a perception-based market, while CAB started with bundled attributes (specifications) to deliver taste and leveraged that to develop positive perceptions.
"CAB has the quality, repeatability and 'trustability'—all absolutely critical," Schroeder says. "But it also has equity value. You could chip away at that if you relaxed quality standards, but you never did, and the industry figured out the genetics, management and other technology to produce more."     
Zimmerman and Schroeder note the increase in Prime grade beef production, approaching 10% of all steers and heifers some weeks. The Prime premium has flagged a bit, but the volume-times-price movement blew the doors off their demand model, nominally at an index of 4,000 in 1998.
That can happen when past assumptions are no longer valid, but Schroeder says "demand modeling is just one metric of many" to indicate the strong position of premium beef in the market.
Steve Ringle, CAB director of business development and analysis, notes leading growth in the brand's Prime extension. "That category is up more than 45% in the first half of our fiscal year, and 56% through April in the calendar year, where it represents 24% of total growth."
The brand's director of packing, Clint Walenciak points to an internal measure called carcass utilization, the share of each available one sold as branded product. That number is up 10 pounds per head so far in 2019.
"We are seeing strong demand in the foodservice sector," Ringle adds, but the retail division really stands out for having "doubled year-over-year sales of Certified Angus Beef brand Prime." 
From a volume standpoint, foodservice, retail and international all show the kind of growth that seems on track for more records to come, he says. "We are experiencing growth with our core retailers, as well as a great amount in our newly licensed Hispanic retailer in Texas, La Michoacana."
The latest numbers confirm flat demand for this brand is only an absurd concept we can use to see a world where the American beef industry would have been $1.4 billion poorer.