You know when you come back from a conference and you're all caught up and have plenty of time to make sense of all the good information you took in? Yeah, me neither.
After attending the Cattle Industry Convention and Trade Show last week, my stack still looks like this: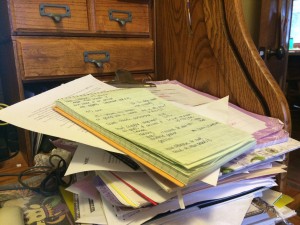 I've added new projects, sticky notes and reminders and I perhaps learned more in those few days in San Antonio than I did my entire senior year of high school.
So this post is just a smidgen of what I picked up, overheard or wrote down.
Here are the four takeaways I heard repeated throughout the week:
Exports are important. They could contribute as much as $500/head to the value of a beef animal in this next decade, according to CattleFax. Today it's $352/head.
"The U.S. is the home of grain-fed beef," said our own Larry Corah. We produce 80%+ of the world's grain-fed product. That is our niche.
"We are recognized as the gold standard around the world. It's pretty fun to go out and sell our products because of the demand," Jay Theiler, AgriBeef, said.
Health costs, health pays. How do many producers get a disease in their herd? "They pay good money for it," says Mark Hilton.

He was talking about buying bulls, females or yearlings and all the possible health threats. That's why paying attention to all the details is important.
Walking through the economics of weaning calves, giving them proper vaccinations and starting them on feed, the veterinarian said, "2014 was the biggest 'no brainer' year in history to precondition calves; 2015 could be even better."
Ranchers need to share that they care. For much of the country it's calving season. You don't need me to tell you about missed sleep and sacrifices and how much you worry about your herd. But you do need to tell others about that.
Texas chef Mike Erickson opened up Cattlemen's College and told attendees, "People want to know what you do. They want to know more about it. If those of us preparing the beef are educated on how it is raised, we can help spread the positive story of beef."
Watching the Environmental Stewardship Awards, I heard many sentiments that we should be communicating with consumers. Take this one from Iowa Angus breeder Dave Nichols, "One of the reasons that we are placed on Earth is to save the soil…to grow two blades of grass when others grew one." So, my plea to you is to go forth and share.
Quality matters now, more than ever. Randy Blach, of CattleFax, said the industry has done a better job of "listening to consumers" in the past 15 years. Congrats! Bravo! A job well done.
Well, maybe not done….
"We are asking consumers to pay more than ever. They're going to ask us to hit certain and higher specifications," said PMS director or research Pete Anderson.
When talking that price-value relationship that we preach all the time, Texas A&M meat scientist Jeff Savell said, "We've got to wow people now."
There's no neatly organized summary from me on this post (hey, I'm still trying to catch up on sleep), but be assured that we'll be sharing more nuggets in the coming week. In the meantime, feel free to check out last week's coverage on Facebook, Twitter and Instagram, where we captured a lot of "in the moment" updates.
May your bottom line be filled with Black Ink,
Miranda