From "cowculators" and other tools to specific selection and management advice, yesterday's post on the Applied Reproductive Strategies in Beef Cattle (ARSBC) Symposium was full of take-home points for cattlemen.
Today, I'll continue with helpful advice from day 2 of the conference:
Avoid reproductive failures.  Sexed semen and embryo transfer (ET) are more advanced technologies, so how and when should cattlemen use them?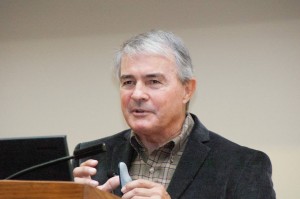 John Hall, University of Idaho, said the biggest value of sorted semen is for smaller producers to shift the calf-crop gender, depending on their replacement heifer needs or desire to market more steers.
Donor and recipient management are crucial to a successful ET program. "The most common mistake in ET is selecting an old, dry, fat cow within the herd as a recipient female," said veterinarian Brad Stroud. Donors, on the other hand, are in their peak production between 2 to 10 years old and when they have calves nursing.
Stroud also spoke on proper semen handling techniques: "Just because the straw is still frozen doesn't mean accidental thermal exposure hasn't happened to decrease fertility." Eight to 10 seconds of exposure, even in the neck of a Dewar container, can damage a straw of semen. He encouraged a liquid nitrogen (LN2) bath for all inventory, cane breaking and transfer activities to protect viability.
It's not all about the female. Robert Wetteman, Oklahoma State University, said even short-term heat stress has long-term effects on bull fertility. The average time to recover normal sperm motility after heat stress is six to eight weeks. Do an early and full breeding soundness exam of all sires, too, he said.
Improving repro rates takes focus. "Culling open cows is not a selection for fertility," said Matt Spangler, University of Nebraska. "Breeders need to actively select traits to improve, not just remove bad ones."
Build with the best. To avoid propagating genetic defects producers need targeted management of carrier and potential carrier animals when retaining females. Allison Van Eenennaam, University of California-Davis, showed how to use DNA information to help. "Computerized mating programs avoid breeding recessive carriers but keep the genetic merit of those animals," she said.
DNA parentage tests can also indicate bull all bulls pull their weight," Van Eenennaam said. "The average progeny by natural-service bulls in the study was 20, but some sired zero, others sired more than 20."
Replacement heifers must calve early. Rick Funston, University of Nebraska, said it takes the profit of two early-calving cows to cover the loss of one late-calving one. Current cow inventories aren't sustainable and challenge the infrastructure of the industry, he said, noting the importance of not only herd rebuilding but doing so with emphasis on reproductively sound females.
Marbling (and management to increase it) is generally the first topic we share information on as we look to increase Certified Angus Beef ® supply. But that starts with more pregnant females and subsequent calves on the ground. Improving that factor is good for you and good for us.
– Katy
For complete coverage of the conference, including PowerPoint presentations and audio, click here.