Confession: I'm not really a "numbers" gal. My friends and I often joke about me doing "journalist math" as I am definitely more blessed with an affinity for words over anything numeric.
I do however, love when numbers tell a story.
While most spreadsheets would make me yawn, a quick look at packer data for the last week in July had our team smiling. For the first time ever, more than 100,000 beef carcasses were "certified" for our brand in one five-day period, the week of July 23 — meaning they all met the 10 CAB brand specifications. That's a 10% increase in certified head over the same week last year. What's even more impressive, it's a 60% increase over the same week five years ago.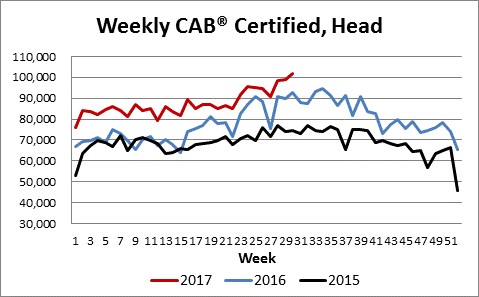 "It's a good thing," says Clint Walenciak, director of packing. "We can't sell what the industry doesn't produce."
So how did that number grow so big, so fast?
Clint says it's a combination of good management, cattle industry conditions and (positive) repercussions no one could have expected looking at that data sheet five years ago. In 2012, drought and market conditions spurred a steep culling of the beef cow herd, reducing the number of cattle in the U.S.
"As we rebuilt the cattle herd, it gave ranchers an opportunity to choose high-quality Angus genetics for replacements," says Walenciak. "Those genetic improvements set the stage for a speedy growth in certified carcasses."
A high-quality herd producing more cattle that meet Certified Angus Beef® brand specifications is a much better thing if demand keeps a similar pace.
It just so happens that for the very first time in the history of Certified Angus Beef LLC, July 2017 also marks the only time 100 million+ pounds of CAB has ever been sold in a single month. The record for certified cattle is matched with a record for CAB sales.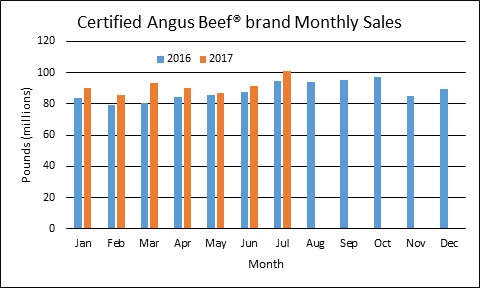 "It's a statement to where we are in the cattle production cycle," says Justin Sexten, director of supply development for the brand. "It's exciting. There's more cattle and higher quality cattle at a time where demand for the CAB brand is at an all-time high."
5 years, 100,000 certified cattle in just one week, 100 million pounds of CAB sold in one month. It's a lot of numbers to follow, but when we connect the dots, it's a story of success that is evidence of the hard work of Angus ranchers.
Until next time,
Nicole