I took a little trip to Oklahoma last week where I had an enjoyable visit with commercial rancher, Joe Mayer.
I like
history
, so learning about his ranch was a real treat. Joe's great-grandfather moved to Texline, Texas, from Savannah, Mo., to assume management duties of the Buffalo Springs Division for the famed XIT Ranch. Trailing cattle to Dodge City, Kan., they passed through this "No Man's Land," which is now the Oklahoma panhandle. They eventually settled there in 1883, establishing their own ranch known as the Anchor D. That home place, which was in a box canyon northwest of present-day Guymon, Okla., is still known as the Anchor D, although the entire operation is simply known as the Mayer Ranch.
Joe and MaryAnn were married in July of 1971, and after receiving his degree from Oklahoma Panhandle State University, assumed co-management along with his father, of the family's operation. For 100 years, the ranch consisted of commercial Hereford cows, bred to Hereford bulls, but eventually became a commercial Angus operation, beginning that transition in the mid- to late 1970s.
As a teenager, Joe calved out about 400 head of Hereford cows, "and I pulled 399 of them" he states, facetiously. "Well, maybe about 60% of them," he finishes. After that debacle, they switched to Angus bulls for a black-baldie calf in the mid-1970s. 
"Right away, we cut our calf pulls down to about 30%", he says, "but that was still too many. We didn't have EPDs in those days to help us select for calving ease, but it was a big improvement." But, back then, black-baldie calves were discounted at the salebarn, compared with a straight Hereford calf.
The ranch experimented with Charolais in the mid 1950s, but conception rates were very low. Not a fault of the breed, rather, they were using artificial insemination, and they didn't have good luck. The few that did conceive disappeared over time. Then came the Limousin bulls, also during the 1970s. "Good cattle, terrible disposition," he quips. Then followed with Gelbviehs.  "Gelbviehs are great cattle; good disposition, growth, milk, fertility. But there's no grade in those cattle, and when you hang 'em up, they only went about 40% Choice."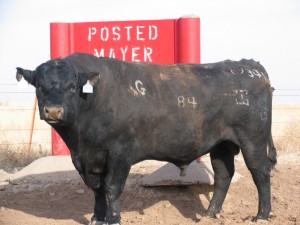 Finally in 1993, the ranch made a firm commitment to the Angus breed and the rest is history.  Using artificial insemination now, with much better technology (estrous synchronization) along with bulls purchased from Gardiner Angus Ranch out of Ashland, Kan. They feed all the steers and cull heifers at commercial feedyards. The cattle typically average 6-10% Prime, 40-50% CAB, with the rest being low Choice. 
If a female produces a calf that grades USDA Select, she is out the gate and to the sale barn. Quality is paramount; all cattle are sold on the grid with the idea of not only providing the consumer with a high-quality product, but it also improves the bottom line.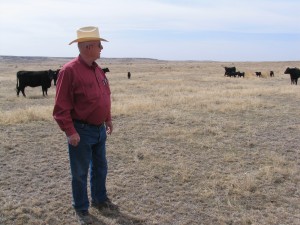 Today's ranch consists of 1,400 head of commercial, spring-calving Angus cows that run on 26,000 acres of native range. Due to the drought, they recently purchased another 1,640 acre-ranch at Unionville, Mo., and they've culled heavily. 
Buying replacement heifers to rebuild the herd, Joe has employed GeneMax to test these females to aid in his culling protocol.  He has purchased nearly 500 tests to date.  Believing that DNA selection will eventually replace EPDs, the current DNA technology, he feels, has been important in improving the accuracy of time-honored EPDs in use today.
The couple have three children, and two are associated with the operation. Son Paul lives near Hardesty, Okla., and is directly involved with the ranch. Daughter Margie lives on the ranch and keeps the record books. Oldest daughter Katie lives in Evergreen, Colo., and is an attorney with degrees from Harvard.
I couldn't think of a better way to spend time on the road, than visiting with good folks like this!
Until next time,
Gary