It's been fun catching up with past CAB award winners for our Flashback Friday posts. Today, Morgan Slaven, our current intern from Virginia Tech, checks in with the Bridges Family. Enjoy! –Miranda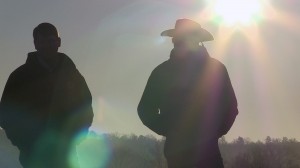 They say you can't teach an old dog new tricks, but the same can't be said when utilizing innovative technologies at Bridges Angus Farm.
Even after 69 years of production, this Angus operation near Lexington, Ga., finds ways to try new techniques without losing the heritage it was established on.
Alan and Phillip Bridges, fourth-generation Angus producers, implemented many new ideas for their family farm when they purchased it from their grandparents in 2005.
However, they also knew there were valuable lessons in what their grandfather had shown them over the years. Ralph Bridges was a 1995 recipient of the CAB Seedstock Commitment to Excellence Award, a former CAB Board Member, and member of the Georgia Angus Association Hall of Fame.
In short, he knew what he was doing.
"He taught us to be open to new technology and to not be afraid to use the science behind it," Alan says.
Now operating a 100% AI program, with a 99% embryo transfer herd, Bridges Angus Farm has taken a proactive approach to reducing input costs and cutting areas of risk. Once a herd of 400, Bridges Farm now maintains a much smaller herd of 35 recipient and 16 donor cows, and utilizes many cooperative herds to keep up production numbers.
Even with these changes, the Bridges brothers have continued their family's annual production sale, exhibiting 80 to 90 high-quality females that strive for genetic excellence. This month marks 69 years of the farm's "Passion for Progress" sale, again an indicator of the pride they have in providing accurate, proven genetics to their customers.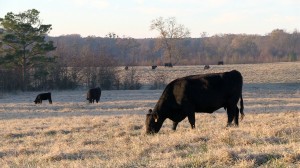 "Our grandfather taught us that it doesn't cost any more money to raise animals that will target the CAB brand versus the animals that miss the mark. In all actuality, those animals cost more to raise," Alan says.
The future is bright, says Alan, and he is confident in the beef industry's ability to supply consumers with what they want, which he says is very simple: "They want a quality product that is healthy and wholesome, that has value and tastes good.
"When a consumer finds a product like that, they will pay for it."
~Morgan
PS- To hear more of the Bridges family story, check out this "I Am Angus" segment they were featured in: