Decades of data from Certified Angus Beef ® brand licensed packers show a typical pen-average fat thickness for finished cattle of 0.53 inch, with a range in those averages of less than .25 to more than 1 inch. Although 0.4 was long considered the target, data across the last 20 years points to barely finished cattle that may not have realized their marbling potential.
Grid marketing simply moved the target. Recent evidence suggests cattle can be fed to .6 inch of fat cover before yield grade (YG) 4 discounts start overtaking quality premiums.
"Quality grade improves dramatically as weight and fat cover increase beyond last century's targets, according to the cattle currently going through our packinghouses," says Larry Corah, who retired as CAB vice president this year. "The share of Choice and Prime increased 10.9 percentage points and CAB acceptance rates moved up 7.5 points when fat cover increased from an average of .4 to .6 inches."
He tells of packing data that says each increase in YG score can add 25 pounds of carcass weight while increasing marbling score up to 40 points. In the data, that moved Choice from 65% at YG2 to 92% at YG4, on average. Last year, a YG3 was most profitable, but a YG4 was much more profitable than a YG2 after all discounts and premiums.
Here is the chart from that consist study: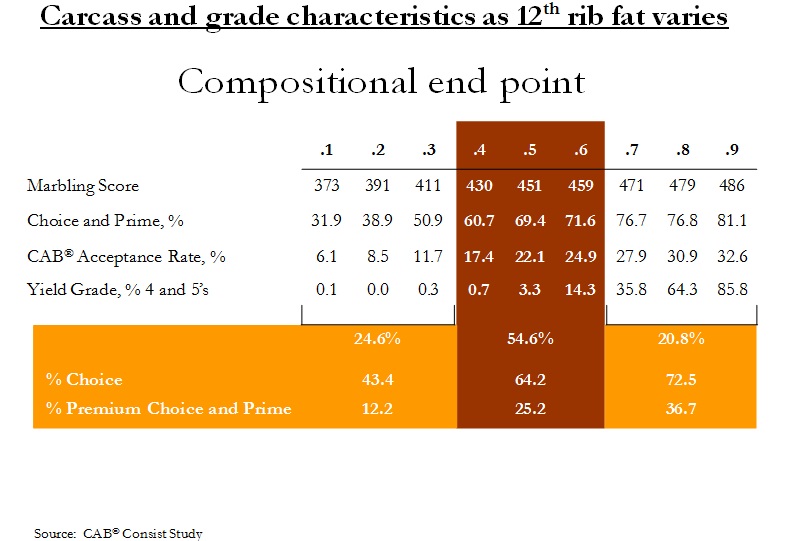 Strange that cattle feeders estimate marbling in the ribeye by guessing fat thickness just under the hide, because according to the American Angus Association database, there's virtually no correlation between the traits. Yet grid marketing of finished cattle is largely based on this acquired skill.
A couple of white papers at our CABpartners.com website address the dichotomy. Robert Maddock, meat scientist at North Dakota State University, wrote, "The relationship between subcutaneous fat and marbling" in 2013, noting it's not much of a genetic relationship, but undeniably linked in feeding.
It is possible to manage both or even enhance marbling while keeping back fat in check if you know the genetics. Speaking of which, American Angus Association data shows the greatest marbling growth occurs while 12th-rib fat is increasing from 0.3 to 0.5 inches, with little added marbling after 0.6 inches, he notes.
Andy Herring, Texas A&M University geneticist and beef science section leader, wrote a white paper, "Genetic Aspects of Marbling in Beef Carcasses," in 2009. He noted wide variations in marbling heritability estimates to arrive at the .45 average, but estimates for the heritability of fat thickness are MUCH more variable. Those are somewhere between 0.02 (useless to try selection) and 0.86 (this should work in no time flat). That range has many concluding it's not about selection, but Herring thinks it is.
"There are significant genetic differences when cattle are subjected to the same environment," he says. Across all breeds, Herring found studies that estimated a phenotypic correlation between marbling and fat thickness from slightly negative to moderately positive. But don't get your hopes up that anyone will suggest selection for marbling will increase or decrease back fat.
"Fat thickness phenotype alone may only describe 0.64% to 9% of the variation in marbling," the Texas geneticist explains.
Let's keep building tomorrow together.
–Steve
—
PS-Have you noticed that, "Every number has a story"? Catch up on our month-long series right here:
Day one: $6.93
Day two: 2.5 million
Day three: $204.10
Day four: 12.1 million
Day five: 11/13
Day six: 8 million
Day seven: 139
Day eight: $39
Day nine: 30.1%
Day 10: 120 million
Day 11: -2.26
Day 12: 12 to 15 minutes 
Day 13: 30%
Day 14: 32 million
Day 15: $154,000
Day 16: 118
Day 17: .51
Day 18: 105
Day 19: 1650
Day 20: 36,575
Day 21: 603
Day 22: 23%
Day 23: 31