Investments can be made in many forms – perhaps a piece of land, new genetics for your cowherd, or even a basic retirement fund. Regardless of the type of investment, they are all made with the same general goal in mind – that the money you put down today will reap greater benefits in the future.
When Louis M. "Mick" Colvin retired as Executive Director of Certified Angus Beef, LLC in 1999, a scholarship was developed to recognize his role in making dreams a reality and inspiring others to be their best. Mick co-founded the Certified Angus Beef Program in 1978.
The Colvin Scholarship Fund is more than an investment in a college education – it's an investment in the future leaders of the cattle and beef business. Since the first award was granted in 2002, a total of 58 different scholarships have been awarded in the sum of $154,000.
Like a wise retirement fund, the diversity of the investment can improve the overall impact. Young adults supported by the scholarship have gone on to a variety of careers – all playing vital roles in the future of the beef business. Some are focused in the Angus seedstock business, others have pioneered research initiatives in meat science, and some have shaped strong careers in agriculture journalism, among many other professions.
I'm grateful that even my own road to a career with CAB was partially paved by the scholarship fund.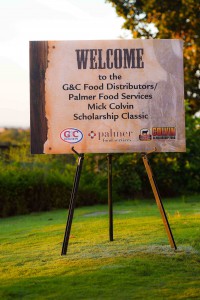 The neat thing about investments is they may start small, but if made wisely will often give you the flexibility to make even bigger ones down the road. The fund that began as a single $1,500 undergraduate scholarship will award $26,000 in 2016 to five undergraduate students and one graduate student.
If you know an ambitious and deserving student who is looking to make their own investment into the future of the beef industry, it's not too late to apply for 2016 funds. The undergraduate deadline is quickly approaching (Dec. 7th) and graduate applications are due January 18th.
The Angus business is better thanks to visionaries like Mick Colvin, laying a foundation for wise investment in the best resources the industry has to share – its people.
-Kara
PS–Read the entire "Every number has a story" series here:
Day one: $6.93
Day two: 2.5 million
Day three: $204.10
Day four: 12.1 million
Day five: 11/13
Day six: 8 million
Day seven: 139
Day eight: $39
Day nine: 30.1%
Day 10: 120 million
Day 11: -2.26
Day 12: 12 to 15 minutes 
Day 13: 30%
Day 14: 32 million
Day 15: $154,000
Day 16: 118