As a senior at the University of Nebraska- Lincoln, I've sat through countless PowerPoint lectures during my college career. And let me tell you, it can get old. But learning isn't about sitting in the classroom anymore…..or just for students either.
Enter the Certified Angus Beef ® brand Education and Culinary Center, which opened at the Wooster, Ohio, headquarters in February 2012. Restaurant and retail partners are routinely invited to the 7,000-square-foot center, which offers a prep kitchen, show kitchen, meat fabrication area and various different learning spaces.
That brings us to today's number: 105.
Throughout the year, the CAB team has planned 105 events for guests from across the world. These could be day-long experiences, or up to a week, but the purpose is always the same: help the partners learn how grow their beef business.
"We have hosted guests from places like Japan and Saudi Arabia," says Deanna Walenciak, CAB marketing director. "It's great to see the influence we are making by serving great beef to the world through the facility we have here in Wooster."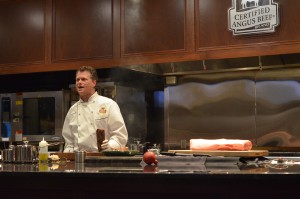 Topics can range from beef education to profitability of beef products at their companies. Chefs and beef experts work alongside one another in the fabrication meat lab to learn new cuts and opportunities to add to their menus.
And recently the CAB team reached out to a new demographic: food bloggers.
"This is an important audience for us to reach as they are a big influencer in beef purchases," Deanna says, noting the events the past few years.
Earlier this month a group of bloggers got a full interactive, educational session focused on holiday roasting. They learned which cuts to use and got one-on-one time with brand chefs.
"The Education and Culinary center is so important to us because it has allowed us to engage with our business partners at a much higher level," Deanna says. "It brings new charm and excitement to being business partners with us."
To accommodate growing demand, CAB is in the middle of construction of a new addition to the building.
"To deliver an [even more] incredible educational experience, we are adding on to our meat lab. This will give more space, which will increase what we can share with our industry partners," she says. "Visiting the ECC can give our partners so much more than meeting with them around a board room table."
~Jenny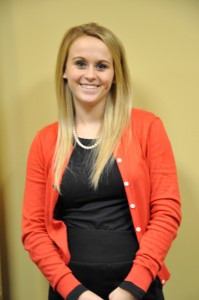 Jenny Keyes grew up as the fifth generation on her family's Springfield, Neb., farm. Her early experiences—which included showing Angus cattle—inspired her to keep on learning about all things agriculture. Our current industry information intern, Jenny is a senior ag communications major at the University of Nebraska-Lincoln.
—
If you want to catch up on our month-long blogging adventure, "Every number has a story," check out these links:
Day one: $6.93
Day two: 2.5 million
Day three: $204.10
Day four: 12.1 million
Day five: 11/13
Day six: 8 million
Day seven: 139
Day eight: $39
Day nine: 30.1%
Day 10: 120 million
Day 11: -2.26
Day 12: 12 to 15 minutes 
Day 13: 30%
Day 14: 32 million
Day 15: $154,000
Day 16: 118
Day 17: .51