For many college students across the country, this week is when the spring semester kicks into full swing. The long winter break back home at the family farm or ranch has come to an end. It can be a bittersweet transition trading chores for studying – for at least part of the day. However, some beef industry scholars took this year's winter break as an opportunity to fit in some extra and unique classroom time.
Last fall we encouraged young Angus leaders from across the country to apply for five additional seats to our Building Blocks for Success Seminar, and were we ever impressed with the young adults who answered our call!
Today's blog post is dedicated to their experience as a part of the class, and some of my observations as a lucky staff member who got to be with them for the event.
Education
Whether you've read about one of our staff members in our "Nice to Meat Ya" series or you've been intrigued by one of our "Myth Buster Monday" posts, we hope that somewhere along the way you've learned that the scope of what Certified Angus Beef LLC (CAB) does is broader than what you may have initially thought. Our Building Blocks attendees get hands-on experience that allows for an elevated understanding of that scope.
From brand assurance, to value-added products, to high-end restaurant marketing – we want the next generation of cattle producers to understand how leveraging their brand adds value to what they are doing back at the farm and the ranch.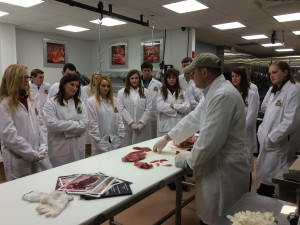 "It's really neat to see how CAB is able to take that brand and impact all aspects from gate to plate," said Ben Conner, one of the scholarship recipients from Kentucky. "It's really neat to see what they're doing for the Angus industry, but also the beef industry as a whole."
Networking
The cattle business is as much about people as it is cattle. The Building Blocks seminar brought our scholarship recipients together with several young leaders including the National Junior Angus Association Board and the National Beef Ambassadors. Connecting with peers provides broader industry perspective and gives our staff a chance to stay in touch with what the cattle business looks like from your point of view.
Staying Connected
Two years before I accepted my job with CAB, I got my first impression of the company at a Building Blocks seminar. Some of our attendees will go back to their family cattle business and take on leadership positions. Others may go on to work in ruminant nutrition, large animal pharmaceutical sales, ag journalism, or pursue careers in academia. The point is – no matter where your career takes you, the CAB team wants to keep you engaged.
Our social media outlets are a start, but anytime we have a chance to interact with our breeders face to face, the opportunity is welcomed!
Congratulations to our scholarship winners who joined us this year, and special thanks to the Angus Foundation for their help in funding the effort.
We look forward to another great class next year!
~Kara