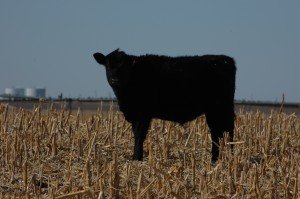 Stocker guys get a bad rap. People on the other side accuse them of just being after the cheap gains, unconcerned with the finished product. But the truth is, they run calves during a very influential time of their lives and can have a huge impact on quality.
If seedstock producers are the ultimate genetic engineers and the commercial cow-calf producers are the early caretakers then stockers are really stewards of the raw material they've chosen to work with: calves.
While it does take a slight change in thinking, stocker operators can focus on quality without sacrificing profits. That's why Certified Angus Beef produced the Best Practices Manual: Stocker and Backgrounding Guide.
The goal? To make sure as many of those Angus-influenced cattle you're backgrounding hit the CAB target as possible.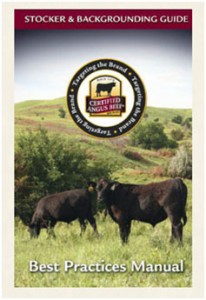 Decisions from procurement to management to marketing will affect how well a stocker hits that goal and gets rewarded for it. Some areas the manual covers:
General management–Good record keeping, weaning and preconditioning as needed, selecting for animals with a good disposition and protecting yourself from risk
Procurement strategies–Genetics, previous health, age- and source- verification eligibility and implant and supplementation strategies
Health management–Receiving, parasite control, treatment and implant use
Nutrition–Grazing systems, confinement systems
Marketing–Documenting value, auction markets, direct sales to feedlots, direct sales to feedlots with profit-sharing, retained ownership
Available at no cost by calling the CAB offices, it highlights some of the best research and information related to this segment of the industry. Order one today for yourself or a whole box full for your next cattleman's meeting.
And, stay tuned for tomorrow's post, where we'll show you one stocker operator who is putting these practices to work and filling demand for the best.
Thanks for taking this trip with us!
Beef's a Trip Archives:
Day 1: Starting at day one
Day 2: Who are these people?
Day 3: Stockholders
Day 4: The cowherd's purpose
Day 5: Deciding to care
Day 6: Quality focus doesn't have to skip the middleman
Day 7: Stocking for quality
Day 8: SOLD!
Day 9: What have you done today?
Day 10: Working together to make 'em better
Day 11: Keep on truckin'
Day 12: Packers want quality
Day 13: The target
Day 14: Packers up close & personal
Day 15: It's not all about the beef
Day 16: Further processors
Day 17: From here to there–and a lot more
Day 18: He's on your team
Day 19: Beyond prices, grocery stores uncovered
Day 20: Getting quality in the carts
Want to catch up with the others blogging their way through November right along with us? See Holly Spangler's My Generation blog where she's writing about "30 days on a Prairie Farm."