Yesterday, you read that packers communicate with us through their grids, nothing more than a set of specifications that show premiums and discounts for carcass beef. Today, it's time to look at one component of most grids that predates those grids and helped launch the whole idea of value-based marketing.
I had heard about the Certified Angus Beef Program, and although I knew it was based on some kind of specifications, I didn't think about how or if they applied to my herd, back in the early 1990s. I was pretty sure those specs were irrelevant to me. But then I reported on the 1993 winner of the CAB Value Discovery Project, which would be the first of many demonstrations. As I talked to Barb and Joe on the Downey Ranch, I began to think twice. That's a target any commercial herd could aspire to, and make progress by genetic selection of bulls, better female replacements and culling. I knew marbling was the most limiting factor, and probably didn't need to worry about the rest of the specs for a while. At least until I was ready to finish some progeny.
But where did the specifications come from, and why? It turns out, that went all the way back to the mid 1970s, the legendary bad steak labeled "Angus," that spurred Angus producers to find a way to guarantee consistent quality. Enter Dr. Bobby VanStavern, now meat scientist emeritus of The Ohio State University and Ohio Ag Hall of Famer. He saw the bigger problems in the beef industry brought by the newly expanded Choice grade.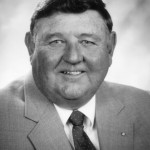 "The variability in the Choice grade just made it impossible for foodservice units to assure customers they were getting the best beef available," says Bobby "Dr. Bob" VanStavern. "All of our meat research showed pretty clearly the influence of marbling on palatability."
A decade later I was feeding cattle and fine-tuning genetics in my herd when colleague Gary wrote an explanatory piece for our monthly Corner on Quality column for state and regional Angus groups. In 2004, the details were all about our eight carcass specs, but in 2007, they become 10. That was no shocker, and the specs remained on target. Deconstructing the yield grade spec into its component parts of carcass weight, ribeye size and fat thickness just provided more consistency in the boxes.  
Today's market signals have pulled more and more CAB product into the supply chain and paid producers more than $352 million in cumulative grid premiums. Those were only a faint promise back when Downey Ranch had committed to the target, but now the genetic tools of increasingly accurate EPDs (expected progeny differences), $Value Indexes and more recently GeneMax, producers have sold semi-trailer loads of 100% CAB cattle, aiming for all CAB Prime next year. Profit for them, opportunity all the way through the food supply chain and satisfied consumers around the world—all of it started with on-target specs.
The process of generation turnover in your herd keeps shifting genetics, which will drift around toward commodity average unless you aim for a target. I have chosen the brand that pays.
Till next time, let's keep on targeting that brand and building tomorrow together.
–Steve
Beef's a Trip Archives:
Day 1: Starting at day one
Day 2: Who are these people?
Day 3: Stockholders
Day 4: The cowherd's purpose
Day 5: Deciding to care
Day 6: Quality focus doesn't have to skip the middleman
Day 7: Stocking for quality
Day 8: SOLD!
Day 9: What have you done today?
Day 10: Working together to make 'em better
Day 11: Keep on truckin'
Day 12: Packers want quality
Day 13: The target
Day 14: Packers up close & personal
Day 15: It's not all about the beef
Day 16: Further processors
Day 17: From here to there–and a lot more
Day 18: He's on your team
Day 19: Beyond prices, grocery stores uncovered
Day 20: Getting quality in the carts
PS—If you haven't checked it lately, read "30 days on a Prairie Farm" partly because Holly's idea inspired our journey, and you can see a list of all the bloggers writing this November.