Everybody who works for the Certified Angus Beef brand was once relatively uninformed, at least if you go back to school days or previous careers focused elsewhere. Internships and seminars are great ways to learn, and current fall intern Jayne Godfrey, University of Illinois at Champaign-Urbana, knows that — plus a few other things about the brand, as she realized when the subject came up in class. Here's her account of how the key facts about CAB became known to her, and how she helped others learn.  Enjoy!
Last week I was sitting in my animal science class at the University of Illinois when the professor asked us a question.
"Who here has heard of the Certified Angus Beef brand?"
Proudly, I perked up in my seat and raised my hand along with more than half of my class.
The teacher then went on to explain everything that I have spent this semester working on here: the high standards CAB holds, why they matter and what exactly that means to the people who eat it. He explained why CAB is different than just ordering an Angus product at a restaurant and I was even able to chip in a few facts myself. I paid close attention through the entire lecture, enthusiastically nodding.
That class discussion and the input I was able to provide got me thinking about my life this time last year.
Before beginning my job at CAB, I didn't have much background in the Angus universe. It definitely wasn't enough to speak up in front of a 300-person class. Friends have cattle and I had worked livestock shows before, but it wasn't until I began my internship that I "stepped into" the world of Angus beef and realized that it is much larger than what happens at a state fair to win a ribbon. It is an entire industry and supply chain that spans the nation and beyond, employs thousands of people and feeds millions. CAB is especially interesting because it is nothing but a brand that adds value for ranchers, who want a relationship because it is "the brand that pays®" for their quality beef.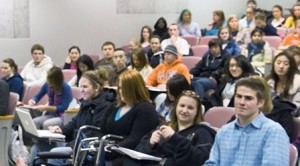 Before CAB, I knew that Angus was "the good stuff" and what I wanted to order when I went out to eat for a nice dinner. I did not know that Certified Angus Beef was different than any other Angus product on the market, as I learned at a CAB seminar (or that it tastes WAY better, as I learned at dinner that night).
Looking back as an outsider then, and now someone who knows a little bit more, I notice all the things that I wouldn't have before. I love the new set of habits I have acquired since working here. When I go to the store now, I always search for the CAB label, and can't help but inspect for marbling when I look at a piece of meat. I am quick to explain the truth to my friends when they talk about grass-fed and hormone free beef—not bad things, just not enough for me. These are things that matter to me now, and I want them to matter to everyone else, because it is the food we are all eating. I have learned that's what this industry is all about: providing people with a quality product that is based on real facts and hard-working people.
I left lecture that day feeling proud, and I can only hope that the other half of the people in my classroom left a little more knowledgeable and feeling like insiders now, too.
~Jayne