A week ago, I embarked on my first CAB road trip. I put in about 1,000 miles within 24 hours, a new personal record. The journey began from my home in east-central Minnesota, from where I headed south to Iowa, for Angus producer interviews in Lost Nation and Monona. After my evening in Monona, I headed northeast to Livingston, Wis., before driving back home the next day.
My first stop in Lost Nation was a welcoming one, thanks to Wayne and Kathy Busch.
"We are j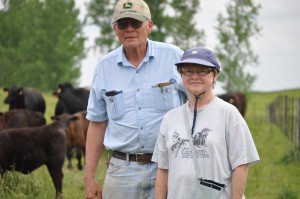 ust north on the edge of town on the gravel road. We're on top of a hill, and you'll see the silage bunkers," Kathy instructed a few weeks earlier over the phone.
To me, it sounded like just about every other place around Lost Nation, considering the whopping population of 400 people that Kathy had also made an effort to warn me about.
When I pulled up the Busch's winding gravel driveway, parked and stepped out of my car, I heard someone holler. I looked up to see Wayne about 50 feet away and walking towards me.
"Ah, you actually found us!" he yelled. I'm honestly not sure who was more surprised that I did in fact make it, without calling for additional directions.
Wayne proceeded to invite me in to visit. Stepping up and then down into the tight, almost nonexistent foyer was welcoming in itself. Their old farmhouse was quaint, but full of character. The aged kitchen linoleum paved a five-foot path to their table for two; and a tub of butter was all that sat on the counter, aside from the AC unit. We had a casual, conversational interview as Wayne and Kathy reminisced on the farm's history and rummaged through old records. They conveyed through each other that time never slows down, and that everything changes with time.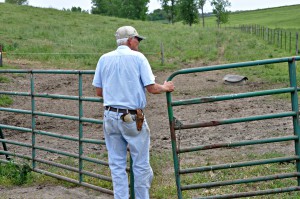 Wayne and Kathy have five children who are everywhere but on the farm. From the opposite side of Iowa, to Washington, Colorado and even Spain, their children have dispersed. Unfortunately, this has left all of the work to Wayne and Kathy. But, they do a remarkable job and have adopted management strategies to make their operation as efficient and productive as possible.
From the brief time I was there, it was apparent that the couple work in harmony. While Wayne showed me around the barn, Kathy cleaned up the old farm truck before we all hopped in for a pasture tour. Wayne explained their water and drainage system, and then we immersed ourselves in the high-quality Angus cowherd as I snapped pictures and we maneuvered in and out of various gates.
As I packed up to head north to Monona that afternoon, Kathy made sure to offer me a snack and water for the road. I already had a cooler with me, but I couldn't help but smile at her generous offer. There sure is something I appreciate about small town stereotypes.
      What I found in Lost Nation: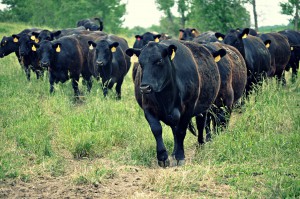 1) Small town hospitality is not forgotten.
2) The people are even nicer in person.
3) Two are always better than one. A couple that farms together, stays together.
That's all for now! Next stop – Monona, Iowa.