50-14 legislation considerations
Market update
The past couple of weeks have offered little excitement in the fed cattle trade. July and August are normally passive months where we look to put in the summer lows. In 2020 there are more obstacles to building a bullish attitude than normal as far as fed cattle values are concerned.
Last week's federally inspected harvest was adjusted lower than the estimated 664K head to 657K head due to a smaller Saturday total than anticipated. Even so, packers appear to be committed to working through the backed up fed cattle supplies and this pace remains what we all want to see.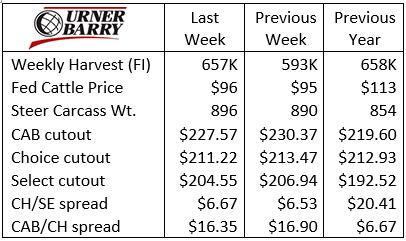 Cutout values have fallen with this week's Choice carcass value on Tuesday closing at $206/cwt. according to Urner Barry. Some analysts have eyed the $200/cwt. price level as a critical low with concerns about further devaluation impacting cattle prices. At this time packer margins remain above $200/head which means there is plenty of cushion between their spot market cattle cost and their boxed beef revenue. The business at hand today is sales volume and the industry is primed to achieve that objective at these price levels.
Current weekly production of both beef and pork are at record levels so competition for consumer dollars at the meat case is stiff. Retailers are and will be wading into the beef market to capitalize on current prices. Look for front page beef ads at retail very soon with price points on many items that will certainly drive consumer buying.
CAB-eligible carcasses are meeting the brand's 10 carcass specifications at a robust pace lately. Carcass marbling measurements across the fed cattle supply remain above a year ago and at all-time highs for this period in time. With this said, the brand may experience sales volumes greater than a year ago as we evaluate the past 3 to 4 weeks.
Across the CAB carcass pricing complex last week we simply marked time with further entrenchment in the month-long pattern. End meats have completed much of their price adjustment from record highs and some items are now priced cheaper than a year ago. Most of last week's carcass devaluation came from the middle meats again with ribs leading the way lower. Strip loins and tenderloins are also trending down but tri tips and ball tips, also from the loin primal, were under pressure last week and are priced below a year ago this week.
50-14 legislation considerations
Cattle and beef markets over the past year have stamped a whipsaw of price trends on the history of our industry. This has sparked a healthy dialogue on the topic of fed cattle price discovery, focusing a spotlight on issues that have long been discussed.
By now, many cattlemen are familiar with the "50/14" legislation introduced in Congress in May by Iowa Senator Chuck Grassley (and others) plus a more recent companion bill in the House brought forward by Iowa Representatives Axne, Finkenauer and Loebsack.
The broad strokes of these proposals would require some beef packing firms to purchase at least 50% of their daily harvested head count in the spot market with a harvest date no longer than 14 days.
Stakeholder opinions are divided as to whether or not such a law would be effective in creating more efficient price discovery. Here at the Certified Angus Beef ® brand we'll not profess to know the best answer to these questions.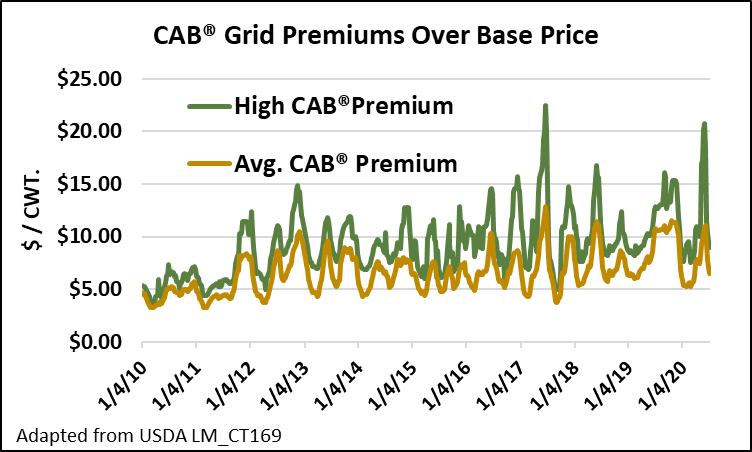 We are, however, passionate and certain that beef demand has been recaptured and strengthening in most recent decades due to enhanced product quality. This wouldn't have happened without financial incentives to focus on genetics and management toward improved consumer satisfaction.
The above chart depicts USDA reported packer grid premiums for CAB carcasses above the weekly fed cattle price. The green line illustrates the weekly top of the price range paid by any packer while the gold line represents the weighted average premium for CAB carcasses among all CAB-licensed packers. The price signals, while variable, show strengthening premiums over time. This, even as producers have answered the call with annually increasing supplies of CAB carcasses, as seen in the chart, below.
Consumer driven economic signals have been passed back to producers because the marketplace has been allowed to differentiate price for cattle and beef product based on quality specifications and other merits. Addressing this point, we have questions of the proposed 50/14 legislation since the old idiom often rings true that the devil is in the detail.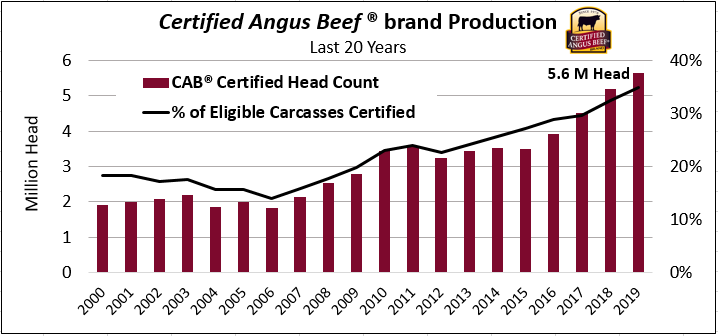 Wherever you may stand on the 50/14 legislation and accompanying issues, I encourage you to consider for yourself some important points outlined in a brief letter by CAB President, John Stika, Executive Vice President of Supply, Bruce Cobb and Board Chairman, John Grimes.
Southern quality grade trends up
The June Cattle on Feed report pointed to larger "on feed" numbers in feedyards with a capacity of 1,000 head or larger in the high plains and in the south, versus the north. In comparing the top four feeding states against their most recent five-year averages for cattle on feed, Kansas, Texas and Colorado each come in at 113%, 112% and 110% respectively, beginning June 2020. In contrast, Nebraska feedyards were filled at just 100% of their recent five-year average rate.
The trade confirms this to be the case as live steer prices in the south trailed northern prices by at least $1.60/cwt. last week. The backlog is a bit deeper from the middle of the main feeding region to the south.
The quality grade trends in the charts further confirm the notion that northern fed cattle are less burdensome as the Prime grade in Nebraska has dipped well below recent highs near 15% to 9% in latest data. Meanwhile, Texas packers saw their all-time high Prime carcass grade share just over 6% for the 3rd week in June.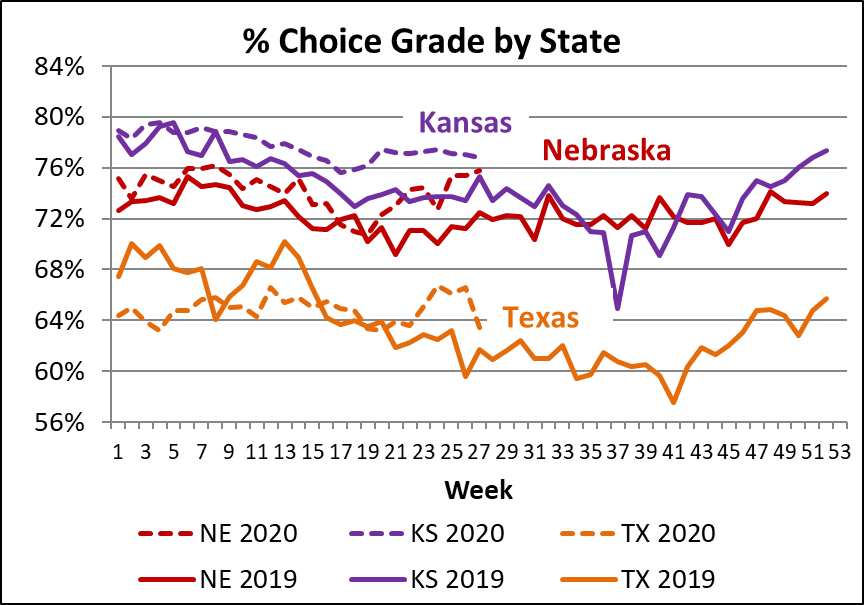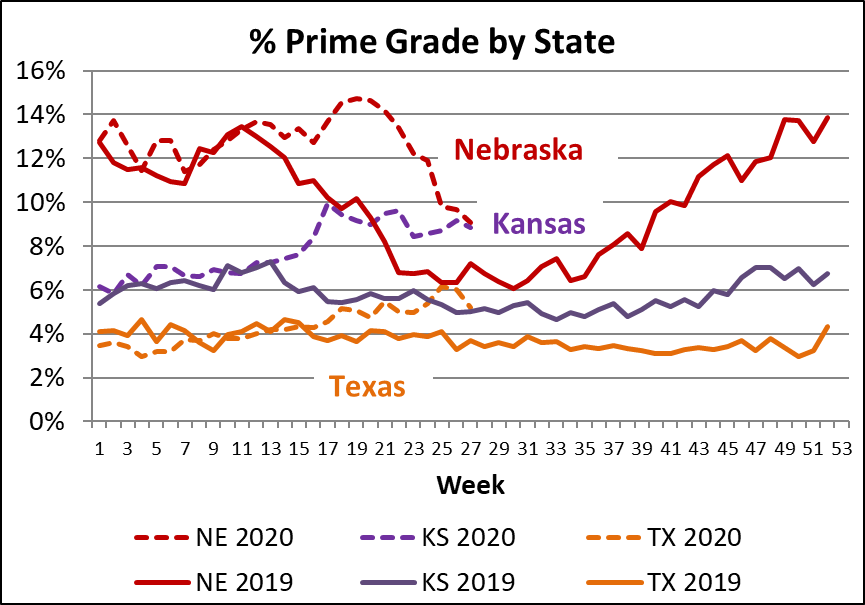 DON'T MISS THE LATEST HEADLINES!
Beef cattle markets adjust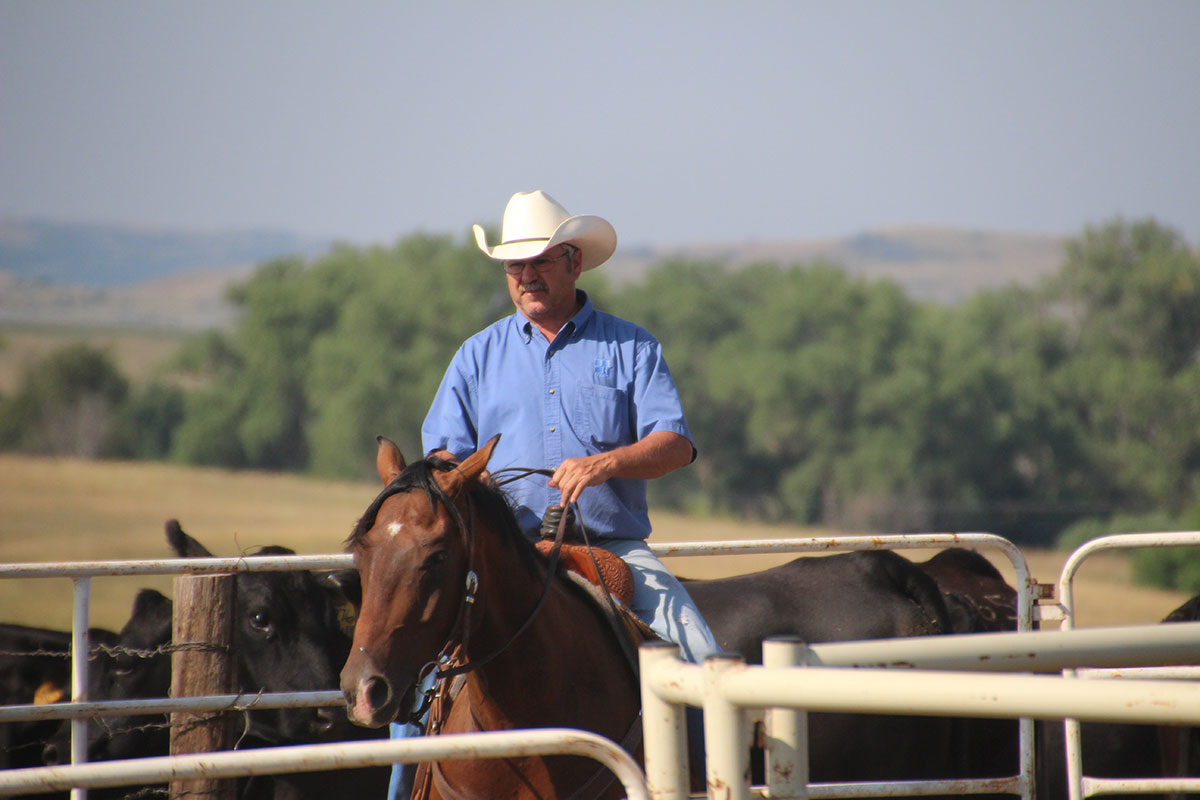 Retailers in cattle country
The brand recently announced two additional carcass spec modifications to further enhance opportunities for stakeholders. As we ease toward October, feedyard managers will remain hopeful for increasing values in both cash cattle and deferred live cattle futures contracts.
Seven weeks of slight improvements in fed cattle pricing came to a halt as packers paid $1 to $2/cwt. less for fed cattle last week. The USDA Cattle on Feed Report, published the Friday before, had some influence, with the August 1 on-feed number posting a record high for the date.
Spot market carcass cutout values are subject to anomalies. Protein buyers may take advantage of opportunities in seasonal shifts, market disruptions or other unexpected changes in supply and demand.